Ksenija Joksimovic: Experiences of Resilience of Transgender..., lecture, 21 Nov 2022 12:00 (on-line)
Join Zoom Meeting
Time: Nov 21, 2022 12:00 PM Prague Bratislava
https://us02web.zoom.us/j/88612891842?pwd=TFJSdDBaUUQwa1orVm94NHhUWDd0dz09
Meeting ID: 886 1289 1842
Passcode: 853286
Ksenija Joksimovic: Experiences of Resilience of Transgender and Gender Non-Conforming Social Justice Activists
Building on social-justice-oriented inquiry and feminist theories (queer theory and intersectionality theory) and drawing on their doctoral research on Resilience Experiences of Transgender and Gender Non-Conforming (TGNC) Social Justice Activists working in seven European countries in trans-specific community organisations, broader LGBTQI organisations, and leading trans-specific programmes and projects, Ksenija`s presentation will discuss the need for a reconceptualization of resilience. Resilience, they argue, is often understood in psychology in an individualistic way—as an individual`s capacity to "bounce back" to the previous state of functioning after experiencing life stressors and atrocities. Understood that way, however, the concept of resilience might obscure the impact of minority stress on the mental health and well-being of TGNC people and communities, which has policy implications, as well. The presentation will elaborate on the alternative, socio-ecological approach to resilience of TGNC people and communities, which takes into account systemic and structural barriers to trans resilience, as well as the challenges to the work of trans activists coming from within the feminist and LGBTQI movements. This reconceptualization will be shown in the light of contribution to the reparation of epistemic injustice that TGNC people are exposed to in human sciences, aiming at redesigning and/or improving existing models and/or practices of self-care and community care for LGBTQI activists and specifically trans communities.
Ksenija Joksimovic is a PhD researcher in Human Sciences at the University of Verona, Italy, and was a visiting research fellow at the Centre for Transforming Sexuality and Gender and the Centre of Resilience for Social Justice, at the University of Brighton, UK. They were involved in queer activism at the international level, as a former Co-Chair of IGLYO-International LGBTQI Youth and Student Organization, as well as in grassroots activism in Serbia, through an activist group "Youth Forum for Gender Equality" mainly using theatre of the oppressed methodology in their non-formal educational work. They are a social justice educator, certified counsellor, and a group psychodrama psychotherapist in training working under supervision.
Ksenija is an author of the book Activist Identity Development of Transgender Social Justice Activists and Educators (2020).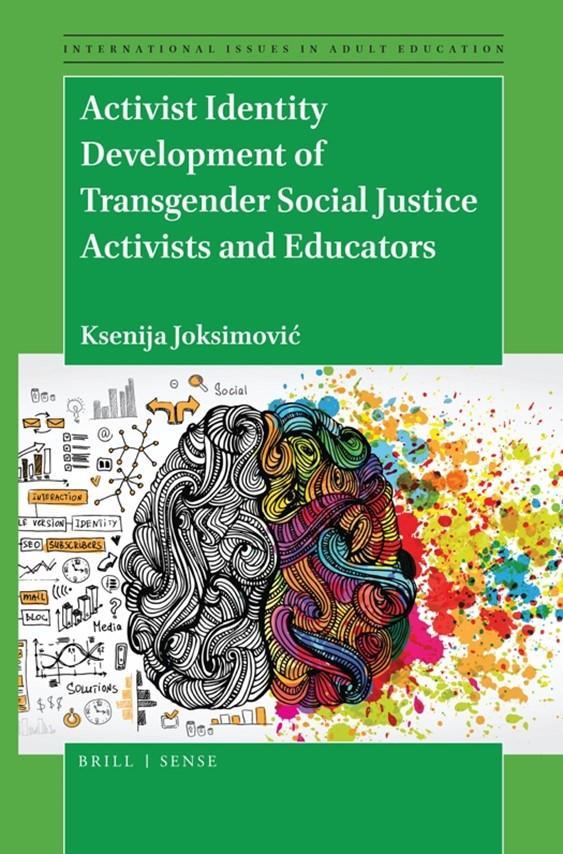 Ksenija is a member of the:
Centre for Transforming Sexuality and Gender, University of Brighton (Associate member) European Society for Research on the Education of Adults (ESREA) European Association for Gender Research, Education and Documentation (ATGENDER) Regional Association for Psychodrama and Integrative Psychotherapy (RAIP) International Association for Group Psychotherapy and Group Processes (IAGP).
---