Artistic duo MSHR will lead the Visiting Artists' Studio at FaVU during the 2023/24 winter semester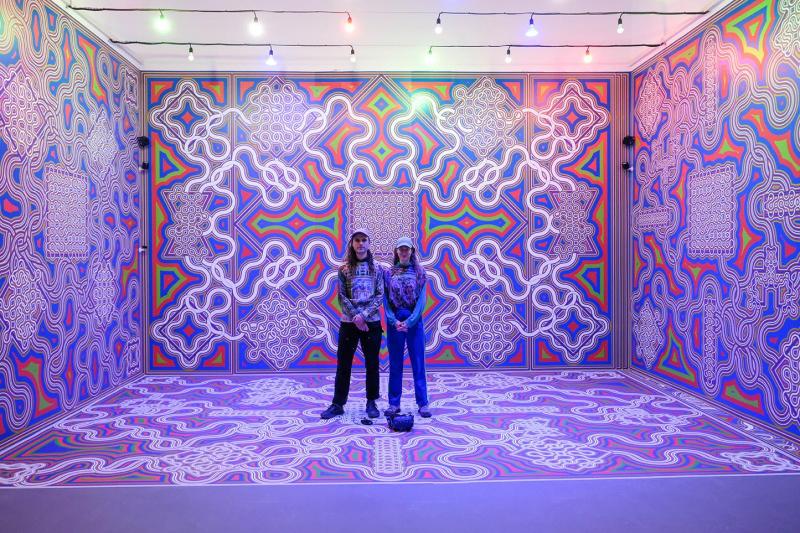 The American artistic duo
MSHR
(Brenna Murphy & Birch Cooper), internationally recognized for their distinctive audiovisual work and cross-genre symbiosis with its distinctive aesthetic, have accepted an invitation to lead the Visiting Artists' Studio in the winter 2023/2024 semester 2023/2024. Their proposed program draws on their long experience working as part of the Oregon Painting Society art collective and hosting workshops related to art and new media forms – particularly
the development of new systems that support the generative aspects of their artworks
.
Digital sculpture, analog forms, and ritual performance intersect in MSHR's work. The duo
creates and explores cybernetic systems using synthesizers of their own desig
n. In their exhibitions they present macro-installations of these sculptural tools to create immersive light and soundscapes. In their performances they engage the systems through a series of unique interfaces. They also work with 3D modeling programs and design virtual forms that have outputs in the form of paintings and sculptures using digital fabrication.
MSHR's sculptural, musical and electronic works are deeply intertwined and create an environment of collaborative practice
.
The MSHR duo has prepared a special concept for FaVU's  students, which can be found at this link:
https://mshr.info/ManifoldSystemsforHybridResearch
. They will be present in Brno throughout the winter semester.
This concept will be presented in more detail on June 21st, 2023 at 6 pm online at the following link: 
http://bitly.ws/Iq2S
. 
Link to MSHR's presentation
:
https://rb.gy/t79cv
. 

If you are interested in applying please fill in this form by 15 September 2023: https://1url.cz/buWoI. Contact Jennifer Helia DeFelice at qvdefelice@vutbr.cz with any questions. 

---