A participatory artist talk with Lucie Vítková, 31 Oct 2022 14:00
FFA BUT cordially invite you to a participatory artist talk with Lucie Vítková.
Monday 31 October 2022 14:00, audiostudio (U2/206), FaVU VUT, Údolní 53, Brno.
We recommend to bring musical instruments/objects!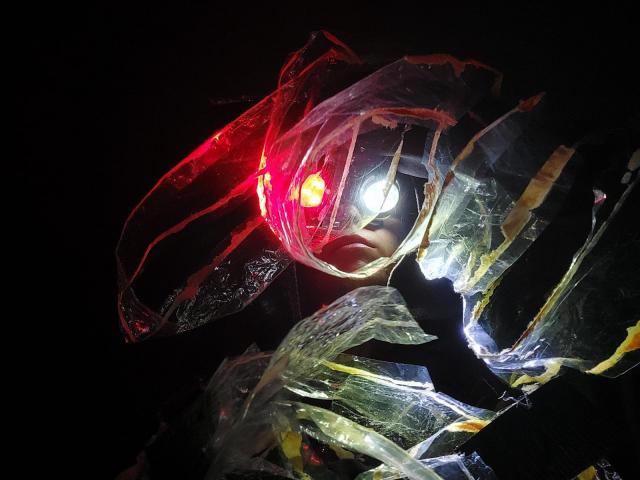 Lucie Vítková is a composer, improviser, and performer (accordion, hichiriki, synthesizer, harmonica, voice, and dance) from the Czech Republic, living in New York. During their studies of composition at Janáček Academy of Music and Performing Arts in Brno (CZ), they have been visiting scholar at the Royal Conservatory in The Hague (NL), California Institute of the Arts in Valencia (USA), Universität der Künste in Berlin (DE), Columbia University in New York (USA) and at New York University. Their compositions focus on sonification (compositions based on abstract models derived from physical objects), while in their improvisation practice, Lucie works with characteristics of discrete spaces through the interaction between sound and movement. In Lucie's recent work, they are interested in the social-political aspects of music in relation to everyday life and in reusing trash to build sonic costumes and instruments.
In their pieces, they use combined notation, such as graphic, audio, text, and staff notation, to achieve a diversity of ways to communicate a musical thought. Their works range from DIY cyborg solo performances to orchestral compositions, and in Lucie's dissertation, they researched compositional techniques that change relationships between players to reform established hierarchies in music.
Lucie has put together two ensembles – NYC Constellation Ensemble (focused on musical behavior) and OPERA Ensemble (for singing instrumentalists). Their teachers and collaborators include George Lewis, Suzanne Cusick, Ellie Hisama, Miya Masaoka, Petr Kotík, Leo Chang, Hitomi Nakamura, Teerapat Parnmongkol, Jolana Havelková, Muyassar Kurdi, Haruhiko Okabe, Jaroslav Šťastný, Teodora Stepančić, James Ilgenfritz, Mae May, and Graham Haynes.

---